Your trusted real estate agent in Antigua W.I. since 2005
US$ 2,900,000 US$ 1,500,000
Emerald Cove, Nonsuch Bay, St. Philip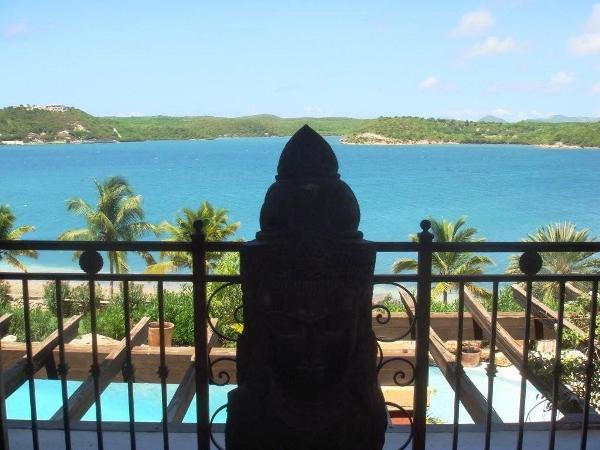 VILLA DOMINIQUE
Property Sales
US$ 2,900,000 US$ 1,500,000
Highlights
Luxury Home
Caribbean Sea View
Beach Front
Swimming Pool
Deck
Terrace
Reduced price from US$ 3 M to US$ 1,500 M for a quick sale
Ideally located on the waterfront, Villa Dominique is a very dramatic and luxurious home in a spectacular setting offering wonderful panoramic views of the East coast of Antigua.
Positioned on a gently sloping hillside, this Mediterranean style property offers private beach access with private jetty, mature Caribbean garden. The villa is part of the prestigious and exclusive Emerald Cove gated community.
The villa has three levels with an upper master suite. The entry level contains a second suite, a charming living room and patio, with den, and several dining nooks. The lower level has two bedrooms and an alfresco dining area on the lower patio leading onto the pool deck.
A short walk takes you through the garden gates to your own private beach. The sea, broken by a reef, remains calm and still for most of the year.
Villa Dominique has satellite TV, DVD, and stereo with a well-equipped modern open-plan kitchen and BBQ. An automatic power backup, international telephone, and internet access are included.
From the patio, you can sit and watch luxurious yachts sailing to Green Island or stopping for a lazy snorkel in the turquoise waters beyond.
Villa Dominique is perfect for a family home or ideal as a rental income investment.
---
Features
Al fresco dining area
Swimming pool with large deck
Private beach
Private jetty
Power backup with standby generator

---
Amenities
4 Bedrooms
Directly On The Beach
Caribbean Sea Views
Terrace
Private Swimming Pool
Deck
We accept



Strategic Alliances
We also advertise our properties internationally on the following websites:
Contact Us
Owner/Founder


Dominique D'Aloia,
+1 (268)-725-4128
dominique@paradisepropertiesconnection.com
Villa Rentals Agent

Simonetta Di Barbora,
+1 (268)-788-4888
villas@paradisepropertiesconnection.com
Administrative Assistant

Camilla Iaia,
+1(268)-561-1563
admin@paradisepropertiesconnection.com

Paradise Properties Connection Ltd.
,
English Harbour, St. John's, Antigua, W.I. ©2005-2022
Paradise Properties Connection Ltd.
St. John's, Antigua, W.I. ©2005-2022