Your trusted real estate agent in Antigua W.I. since 2005
from US$ 15,000 per night
Villa Serena & Villa Flower
Nonsuch Bay, Antigua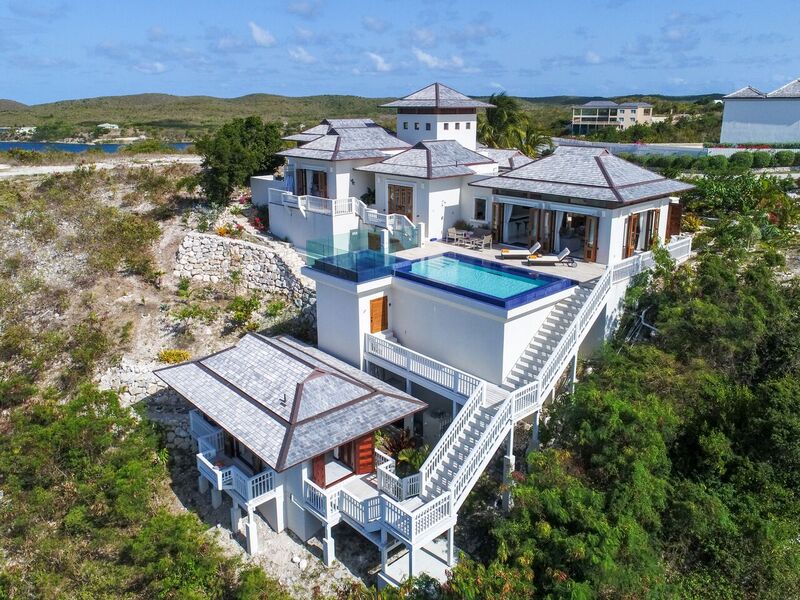 VILLA SERENA & VILLA FLOWER
Villa Rentals
from US$ 15,000 per night
Highlights
Luxury Home
Caribbean Sea View
Swimming Pool
Deck
Terrace
Season
Price per night
Price per week
Price low season
15th May to 30th of November
US$ 15.000,00
US$ 105.000,00
Price high season
1st of December to 14th of May
US$ 15.000,00
US$ 105.000,00
PEAK SEASON rates
US$ 105.000,00
YACHT BOAT SHOW : 2nd to 11th of December
XMAS and New Year : 21st December to 7th of January
RORC, MAXI YACHT REGATTA, SAILING week : from February to end of April
Antiguan Government Taxes:
14% ABST will be applied
3 or 5 USD per day per person will be applied
Villa Flower & Villa Serena are located in Galley Bay, Five Islands, on the west coast of Antigua. It is about 25 minutes from the airport and about 10 minutes from St. John's. The villas sit on a waterfront hillside at Galley Bay facing west with breathtaking views and daily sunsets. There is direct access to a beach on the property of the estate.

Both villas have continuously undergone transforming renovations and are furnished and equipped to exacting standards. Villa Flower has 7 bedrooms, while Villa Serena has 5 guest bedrooms. The villas are located side by side and may be rented as one large villa. Both villas are spacious, with lots of outdoor spaces, by way of the many patios and terraces; they are of a traditional Caribbean design and each equipped with swimming pools, gym, outdoor hot tubs and a steam room cliff side. The villas have direct access to a quiet sandy beach within the property's compound. All bedrooms are air conditioned and have full ensuite bathrooms.
Both villas are set within the grounds of Non-such Bay Resort where guests can enjoy the clubhouse restaurant and bar, reception services, kids club, private sandy beach, 3 infinity edge swimming pools and extensive water-sports facilities. The resort boasts a sailing club with an extensive fleet of boats. The bay is rumored to be the best small yacht sailing destination in the Caribbean.
The villas are 30 minutes from the Friars Hill Road on which is located, the Woods Mall Shopping Centre, Village Walk, the Epicurean Supermarket, Royal Palm Palace and the Caribbean Cinema Complex. Only 10 minutes away is the capital St. John's with shopping and restaurants.
There are many restaurants in close proximity Le Bistro, Bay house, the Larder, Salt Plage and Nomad. However, even the most distant restaurants are only 30 to 40 minutes away.
---
Features
Villa Flower Amenities:
2 Master Bedroom Fully En-suite with Bidet
5 guest bedrooms fully En-suite with Bidet
Guest Powder Room
Indoor Living Room
Indoor Bay
Large Covered Patio
Open air dining area
Outdoor lounge
Gym
Massage Room
Main Kitchen
Laundry Room
Staff Room with Bathroom
1 Staff relax/dining area
Pool bar
Outdoor jacuzzi
Steam Room
Swimming Pool
70" flat screen TV
Satelite TV
Surround Sound Speaker System
WIFI
Direct access to a beach

Maximum occupancy: 14 persons
Minimum stay: 7 nights
No children under 12 allowed
?
Villa Serena Amenities:
1 Master bedroom fully ensuite with Bidet
2 guest bedrooms full ensuite with Bidet
2 guest cottages full ensuite with Bidet
Guest powder room
Living room
Indoor Dining Area
Large Covered Patio
Open air dining area
Open air lounge
Gym
Main kitchen
Landry room
2 staff rooms with bathroom
Staff relax/dining area
Outdoor jacuzzi
Swimming Pool
70" flat screen TV
Sonos Arc Speaker system
Maximum occupancy: 10 persons
Minimum stay: 7 nights
No children under 12 allowed
Power - Both 110V and 220V 60 Hz are available, as well as European standard electrical sockets.
Staff - The villas have five permanent staff, Head Custodian/Gardener, Head Housekeeper, and 3 others. One member of staff overnights on property while the other staff members are schedule from 7:00am until 9:00pm. Depending on the occupancy, 2 additional staff will be provided.
TT/AV - Both villas are equipped with lare flat screen TV's, Surround sound speaker system, a fax machne (in Villa Flower Only), telephone, DIA Internet with WIFI throughout the property and Cable TV.
---
Amenities
12 Bedrooms
Caribbean Sea Views
Terrace
Private Swimming Pool
Deck