Your trusted real estate agent in Antigua W.I. since 2005
US$ 695,000
Falmouth Harbour, English Harbour , Antigua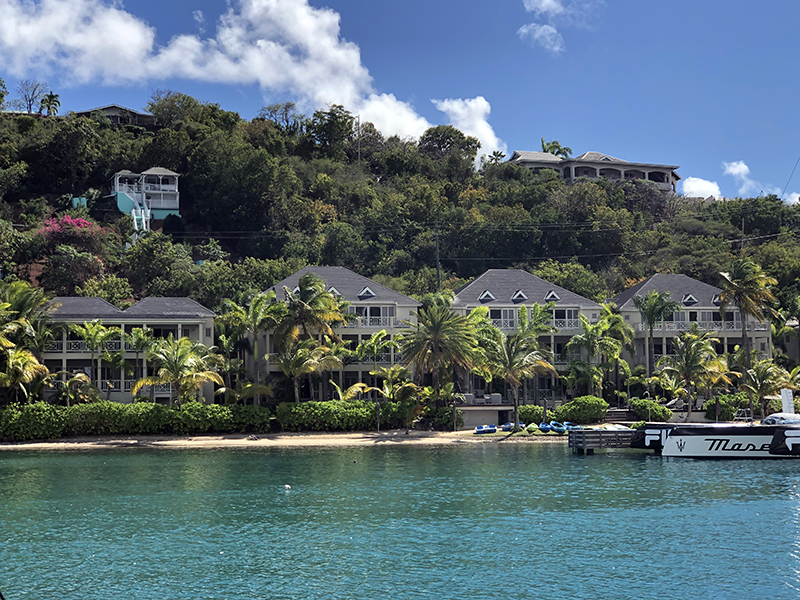 SOUTH POINT
Property Sales
US$ 695,000
Highlights
Luxury Home
Caribbean Sea View
Beach Front
Waterfront
Swimming Pool
Deck
Terrace
THE PROJECT -
Set in the Caribbean's premier yachting centre with breathtaking views, and first class service, South Point is an exclusive boutique South Point redefines the style of historic English Harbour. This development is about the blend of a spectacular location, people, delectable food, drink, and music to create the set for unforgettable times.
The 23 beachfront units feature open-plan layouts with Italian kitchens, living area, spacious terraces, and a full complement of modern furnishings combined with a view of the most incredible yachts in the world. Amenities and facilities include, a cosmopolitan restaurant over the water, a modern lounge, beach, swimming pool, fully equipped fitness center, boat dock, high-speed Internet access, cable TV, guest reception, serviced laundry, and room, beach, and pool service.
Residents and guests of Harbour Suites will find their unit fully furnished to 5-star standards, complete with Italian bathrooms and kitchens, European appliances and lighting. In addition, its ideal position adjacent to the Antigua Yacht Club, offers Harbour Suites guests a slew of entertainment options within walking distance; including some of the island's most popular bars, restaurants, and cafes, as well as, beach, shopping, tennis, racquet ball, snorkeling, scuba diving, paddle boarding and sailing.
This boutique condo-hotel offers a solid real estate investment opportunity through participation in the Condo Hotel Rental Program as well as your own pied-a-terre in Antigua. A total of five residential buildings house the 20 onebedroom apartments (4 apartments in each building) and 3 two-bedroom Penthouses (located on the third floor of the 3 center buildings). The one-bedroom units are approximately 1100 sq ft each, while the two-bedroom Penthouses are approximately 2300 sq ft. South Point Hotel Inc. (SPHI), an Antigua & Barbuda corporation, wholly owned by the Developer, is the exclusive provider of hotel services through the Condo Hotel Rental Program to those Owners who place their property into the rental pool.
Units may be owned individually or as shared ownership Citizenship By Investment Program (CIP), each unit with separate condominium title registered in accordance with the Registration of Condominium Titles Act of Antigua & Barbuda and the South Point Falmouth Harbour Condominium Plan No. C200800028.
THE INVESTMENT - Only 9 single 1 bedroom suites available in May 2022
South Point is a fully approved Antigua & Barbuda Citizenship By Investment Project. Interested purchasers may choose to apply for citizenship in Antigua & Barbuda using the purchase of a South Point Unit as a qualifying real estate purchase or they may simply purchase the real estate without this option. Under the CIP program, purchasers may acquire units either as a single owner or as shared ownership; with shared ownership each unit may be divided into 3 shares. In order to execute the shared ownership option purchasers will be required to acquire one share of a local Antigua company into which the ownership of the unit will be vested.
Ground Floor and First Floor Units starting from US$ 695,000 and up to US$ 715,000
First Floor Units (1-bedroom, 102 & 104) starting from US$ 695,000 and up to US$ 885,000
Penthouse 2-Bedroom Units (Resales Only) US$ 1,900,000 - Sorry none available presently - updated May 2022
CIP Shared Ownership
Ground Floor and First Floor 2 shares each starting the ownership 4 shares from US$ 200,000 and up to US$ 450,000/share
First Floor Units (2 shares-units 102 & 104) US$ 475,000/share
Penthouse 2-Bedroom Units 4 shares each US$ 500,000/share
---
Features
A boutique hotel
20 one-bedroom & 3 two-bedroom fully furnished apartments
Caribbean architecture
Modern interiors
Italian kitchens
Bathrooms and furniture
Docking
Swimming Pool
Restaurant
Lounge
Fitness Centre
Apartment units sold with free-hold condominium title
15 units already sold, 8 units remaining
An approved project under the Antigua & Barbuda Citizenship by Investment Program
---
Amenities
1 Bedroom
Television
Directly On The Beach
Waterfront
Caribbean Sea Views
Air Conditioning
Internet
Fully Equipped Kitchen
Iron And Ironing Board
Housekeeping
Terrace
Private Swimming Pool
---
Nearby
Nearest Bar/Restaurant:
2 minute walk away
Nearest Supermarket:
2 minutes walk away
Nearest Airport:
V.C Bird International Airport 45 minutes drive
Nearest Beach:
on the beach and 10 minutes walking to Pigeon Beach
We accept



Strategic Alliances
We also advertise our properties internationally on the following websites:
Contact Us
Owner/Founder


Dominique D'Aloia,
+1 (268)-725-4128
dominique@paradisepropertiesconnection.com

Paradise Properties Connection Ltd.
,
English Harbour, St. John's, Antigua, W.I. ©2005-2023
Paradise Properties Connection Ltd.
St. John's, Antigua, W.I. ©2005-2023