Your trusted real estate agent in Antigua W.I. since 2005
US$ 250,000
Jolly Harbour Villa 421d*
Jolly Harbour, St. Mary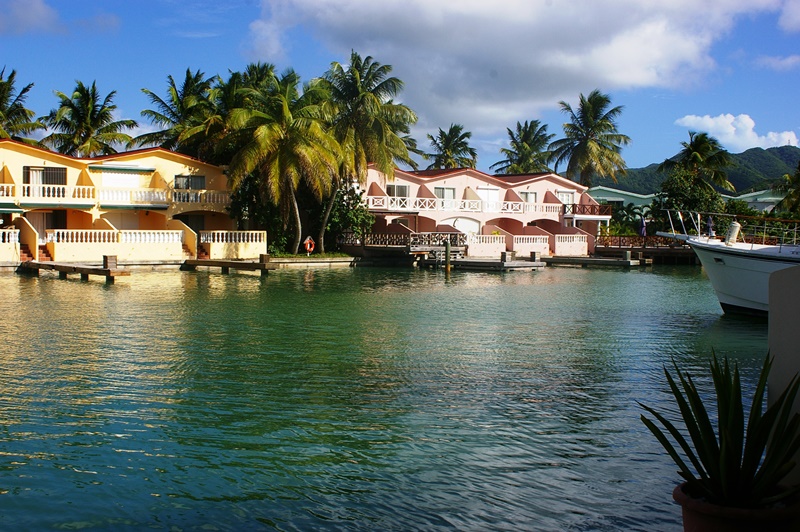 JOLLY HARBOUR VILLA 421D*
Property Sales
US$ 250,000
Highlights
Caribbean Sea View
Waterfront
Terrace
Located on the west coast of the island, this waterfront villa can be found in the gated community of Jolly Harbour and is a 5-minute walk to the beach. The ground floor is open plan with a kitchen and living area. The kitchen has white countertops with maple cupboards and white appliances. Using the rag roll technique, the wall finishes of the living and kitchen area gives an artistic flair with the beautiful wall drapes and wall mounted pictures. The sliding glass doors lead onto the patio overlooking the marina with vistas of the Sleeping Indian mountain. A private jetty is included for a boat.
On the second floor are two bedrooms, each with their own en-suite bathrooms. The master bedroom has a shower/bath combination with similar wall Caribbean colours. The villa is air-conditioned and has ceiling fans throughout.
Jolly Harbour sits on over 300 acres of park-like land and is the largest man-made marina in the Eastern Caribbean. Amenities include an 18-hole golf course and clubhouse, supermarket, banks, pharmacy, numerous bars, and restaurants and 24- hour security.
---
Features
24-hour security
Two bedrooms, two bathrooms

Fully furnished

Air-conditioning and ceiling fans

Views of the marina and the Sleeping Indian

Walking distance to the beach

Private jetty


---
Amenities
2 Bedrooms
Television
Waterfront
Caribbean Sea Views
Internet
Fully Equipped Kitchen
Terrace
Hurricane Shutters
We accept



Strategic Alliances
We also advertise our properties internationally on the following websites:
Contact Us
Owner/Founder


Dominique D'Aloia,
+1 (268)-725-4128
dominique@paradisepropertiesconnection.com
Villa Rentals Agent

Simonetta Di Barbora,
+1 (268)-788-4888
villas@paradisepropertiesconnection.com
Administrative Assistant

Camilla Iaia,
+1(268)-561-1563
admin@paradisepropertiesconnection.com

Paradise Properties Connection Ltd.
,
English Harbour, St. John's, Antigua, W.I. ©2005-2022
Paradise Properties Connection Ltd.
St. John's, Antigua, W.I. ©2005-2022