Your trusted real estate agent in Antigua W.I. since 2005
US$ 1,150,000 US$ 750,000
Argentum Heights - Island Villa
Dian Bay, Long Bay, Antigua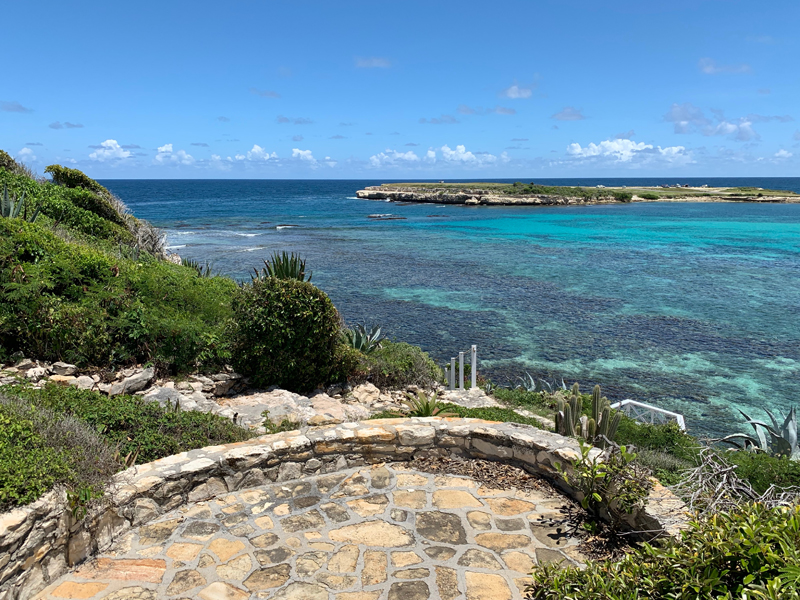 ARGENTUM HEIGHTS - ISLAND VILLA
Property Sales
US$ 1,150,000 US$ 750,000
Highlights
Caribbean Sea View
Beach Front
Deck
Terrace
REDUCED FROM the initial asking price of US$ 1,150.000 TO US$ 985.000 !!
If your dream is to luxuriate in a lush hidden garden on the sea, then this is it!
This .6 acre property is the very definition of idyllic privacy. You are surrounded by verdant foliage on three sides, and above the sea on the fourth; enabling you to move about in your knickers, or the buff, if you so choose.
Your vantage points are uniquely vibrant. Your front yard is the tranquil, intensely turquoise water of Dian Bay. Just to the East are the roiling waves of the Atlantic. Steps head directly into the sea, where you enjoy exclusive water access. Just above the steps there is a newly refurbished sundeck and boat house. You can loll about to your heart's delight.
The yard provides a wide open perspective from which to star gaze. And there are plenty of stars!
There are three structures on the property. First , an ultra sturdy 4 room home with hurricane shutters and screened windows and doors so numerous that you really are set in the garden. There is a master BR with en-suite ½ bath, a guest room, large great room, kitchen, and a full bath. And, of course, there is an outdoor shower surrounded by tropical flora. The property contains a concrete, enclosed, full garage. Additionally, there is a one room cottage wired for air conditioning in which there is a toilet and small sink.
On one side of the home there is a porch, the dining room. On the seaside there is a covered wraparound gallerie for sea and bird-watching. The property is especially appealing as there is extensive original stonework done in the patiently crafted old school style.
Your water supply is assured, as there is an 8,000 gallon cistern, as well as government water. Consistent communications are available as the home is set up with WI-FI, Vonage and a local landline.
This hideaway is difficult to describe, and easy to love. It is a dream come true kind of place.
---
Features
Land size: 0.60 acre (26,136 sqft)
3 separate buildings on site
Ocean view
Water front and direct water access
Lush Garden
Fully gated and extremely private
---
Amenities
2 Bedrooms
Directly On The Beach
Caribbean Sea Views
We accept



Strategic Alliances
We also advertise our properties internationally on the following websites:
Contact Us
Owner/Founder


Dominique D'Aloia,
+1 (268)-725-4128
dominique@paradisepropertiesconnection.com
Villa Rentals Agent

Simonetta Di Barbora,
+1 (268)-788-4888
villas@paradisepropertiesconnection.com
Administrative Assistant

Camilla Iaia,
+1(268)-561-1563
admin@paradisepropertiesconnection.com

Paradise Properties Connection Ltd.
,
English Harbour, St. John's, Antigua, W.I. ©2005-2022
Paradise Properties Connection Ltd.
St. John's, Antigua, W.I. ©2005-2022